Angelo Bruno assassinated
By Joe O'Dowd and Tom Cooney
Philadelphia Daily News
Daily News staff writers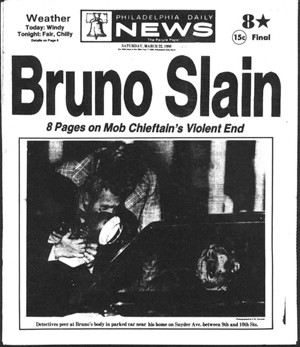 This story was originally published in the Philadelphia Daily News on Mar. 22, 1980
Angelo Bruno - who as the leader of organized crime here for at least two decades had tried to curb mob violence - died last night in the type of crime he abhorred. He was shot to death in cold-blooded, gang-execution style as he sat in a car in front of his South Philadelphia home.
The 69-year-old Bruno died instantly of a single gunshot wound, believed to be from a shotgun. There was only one visible wound, a gaping hole behind his right ear.
The driver of the car, a longtime friend of Bruno, was shot in the arm.
Police said two men had fired two shots at Bruno and his driver through the window beside Bruno, which had been rolled down, apparently so Bruno could discard a cigarette.
The killing not only created an immediate sensation in the area in which the body was found, but touched off high-tension meetings of both law enforcement authorities and mob leaders.
Police and the FBI, which entered the investigation almost immediately, were seeking to find out not only who committed the crime, but why. There was wide, but no really solid, speculation as to why Bruno had suddenly become a target. If there had ever previously been an attempt on his life, it had not become publicly known.
The shooting took place at 9:50 p.m. outside Bruno's home at 934 Snyder Ave.
The wounded man was John Stanfa, 39, who operates a construction business from his home at 1743 Passyunk Ave., about eight blocks from Bruno's modest, two-story brick rowhome. Stanfa suffered pellet wounds of the right forearm and wrist and was listed in satisfactory condition at St. Agnes hospital early this morning.
Shortly before the shooting, Bruno had had dinner at Cous' Little Italy restaurant, at 11th and Christian Sts., with his attorney, Jacob Kossman, and Raymond (Long John) Martorano, a Bruno lieutenant. The three sat down about 7 p.m. at a table in the rear of the place, where Bruno frequently dined, and stayed there a little more than two hours.
Police said they were told that Stanfa also was in the restaurant and that when Bruno, Kossman and Marotano prepared to leave, Bruno asked Stanfa to drive him home. Stanfa apparently frequently drove Bruno. Some sources said he was Bruno's bodyguard, although detectives said neither Stanfa nor Bruno were carrying weapons when police arrived on the shooting scene.
Stanfa and Bruno drove from the restaurant to a newsstand on the northwest corner of Broad St. and Snyder Ave., where Bruno alighted from the car to buy a copy of the Inquirer. He got back inside and Stanfa turned his 1979 maroon Chevrolet classic Caprice east onto Snyder Ave.
It was then only a drive of slightly more than four blocks to Bruno's home.
Stanfa stopped the car at the nearest vacant space along the curb, about 25 feet from the wrought-iron railinged cement steps leading to Bruno's front door. The car was stopped about seven feet from the curb, as though it had just halted to allow a passenger to alight, but had not been parked. The front wheels were turned toward the street.
According to chief inspector of detectives Frank Scafidi, who led the investigation, Stanfa told police two men appeared from the rear as the car came to a stop. He said he heard two shots and saw the men run west on Snyder Ave. toward 10th. Stanfa told police he thought the men split up there, one going north on 10th and one south. However, other witnesses told police at least one of the men continued running west on Snyder.
Neither Stanfa nor any other witnesses could provide a description of the men, except that they were white.
Someone, apparently a passerby, called the police emergency number, 911, within minutes and reported the shooting. The message went out on the police radio: "shooting at 934 Snyder Ave.," an address familiar to hundreds of police officers. Only a few minutes later, a second message said, "shooting at 934 snyder ave. One homicide, one man wounded."
As police and detectives raced to the scene, word of the shooting spread through the neighborhood and the street began to fill with the curious. As the crowd grew, police brass called in a busload of 30 officers to handle the onlookers. Later, another bus was called in.
After Stanfa was taken to the hospital, police erected barricades on both sides of snyder ave. To keep the pushing mobs away from the car.
About an hour after the shooting, Scafidi held an impromptu press conference in the middle of Snyder Ave. He explained that Bruno's body had not been moved because "it was obvious (from the beginning) that Mr. Bruno was dead."
He said Bruno's wound "indicates the use of a rather heavy weapon, maybe something larger than a pistol." he refused to speculate further, waiting instead for the results of an autopsy scheduled for this morning at the city morgue.
Asked if he thought the killing had been "a hit," the gangland term for a contracted killing, Scafidi replied: "it looks like that to me."
To a suggestion that the murder appeared as if someone wanted to "shut Bruno up," Scafidi commented: "they succeeded."
Scafidi was the ranking police officer on the scene. Commissioner Morton Solomon did not appear, in marked contrast to the practices of previous Commissioners Joseph F. O'Neill and Frank Rizzo, who invariably showed up at the scenes of major crimes. A subordinate said Solomon believed in letting the man responsible for the case - in this case, the chief of detectives - do the work.
Neither Scafidi, other police officials or the FBI would speculate officially on the reason behind bruno's killing.
The Sicilian-born Bruno - a soft-spoken, unfailingly polite man - had been recognized as leader of organized crime - or the Cosa Nostra - here since 1960. His "territory" included not only Philadelphia, but South Jersey. And, in addition, he was described in a federal report in the 1960s as one of nine nationwide members of the commission that led the Cosa Nostra.
Bruno had been brought to this country as a little boy by his parents. He went to public schools in South Philadelphia, but never finished high school.
Although arrested a few times, he never went to jail until he was imprisoned for contempt after refusing to talk before the New Jersey State Commission of Investigation in the early 1970s.
David W. Breen, a retired FBI agent who for several years led the agency's organized crime strike force here, described Bruno as "very sharp . . . Very low key . . . A perfect gentleman."
Breen said Bruno "did not condone violence in philadelphia. He obviously nullified some 'hits' here that had been requested by other leaders."
The former FBI agent said Bruno's organization gained its strength and its financial resources from the numbers racket. He described Bruno as "the Federal reserve for all ethnic gambling operations in Philadelphia. He was the one who 'took the edge' for all the other operators."
He said Bruno's organization also was involved with loansharking as well as a number of legitimate businesses. For instance, Bruno for years listed himself as a salesman for a cigarette-vending company run by his longtime friend and alleged associate in organized crime, Raymond (Long John) Martorano.
From all accounts, however, Bruno abhorred drugs and tried to prevent his lieutenants from becoming involved in their manufacture or distribution.
As for the possible reasons for Bruno's execution, Breen noted Bruno's appearance on thursday before the New Jersey State Commission of Investigation; the arrest on drug charges this week in Cherry Hill of Rosario and Giuseppe Gambino, brothers who were cousins of the late "boss of all Bosses," Carlo Gambino; and the year-old split between Bruno and his former No. 1 aide, Phil Testa.
Others with a knowledge of criminal activities also mentioned these happenings, but none could point definitely to one or more of them as the direct cause of the killing.
It was known that shortly after Bruno's death, Martorano, Mario Riccobene and Frank Sindone - all of whom had stuck with Bruno after the split with Testa - met at Cous' Little Italy restaurant. Several law agents tried to approach the three as they sat at a round table, but they refused to talk to any investigator.
Likewise, no police or FBI agents were allowed inside the Bruno home, although a steady stream of friends and neighbors filed in, apparently to console Bruno 's wife, Sue.
Long after the shooting, the neighborhood remained tense and wary. During the seemingly endless period while Bruno's bloodied body lay in plain view, Snyder Ave. was jammed from curbs to housefronts with more than 1,000 viewers. Others peered from open windows in scores of houses on the street.
Even as late as 3 a.m., more than three hours after the body had been moved, there were still people looking from behind shades toward where the car had stood. And almost every passing car on Snyder Ave. or 10th St. slowed while the occupants looked toward the Bruno home.
Neighborhood residents invariably expressed friendly feelings toward Bruno.
"He was a helluva nice guy," said Joe Rota, 34, who lived on the same block as Bruno. "There was none better than Angelo Bruno. "
Most people in the crowd expressed similar sentiments. One unidentified woman shouted to police as the body stayed agonizingly in plain view: "You're making a circus out of this. You should have moved him. Don't you have any consideration for the family?"
Yet when the body was moved, and TV and newspaper cameramen moved closer to get photographs of the action, many in the crowd booed and shouted for the photographers to move out of the way.